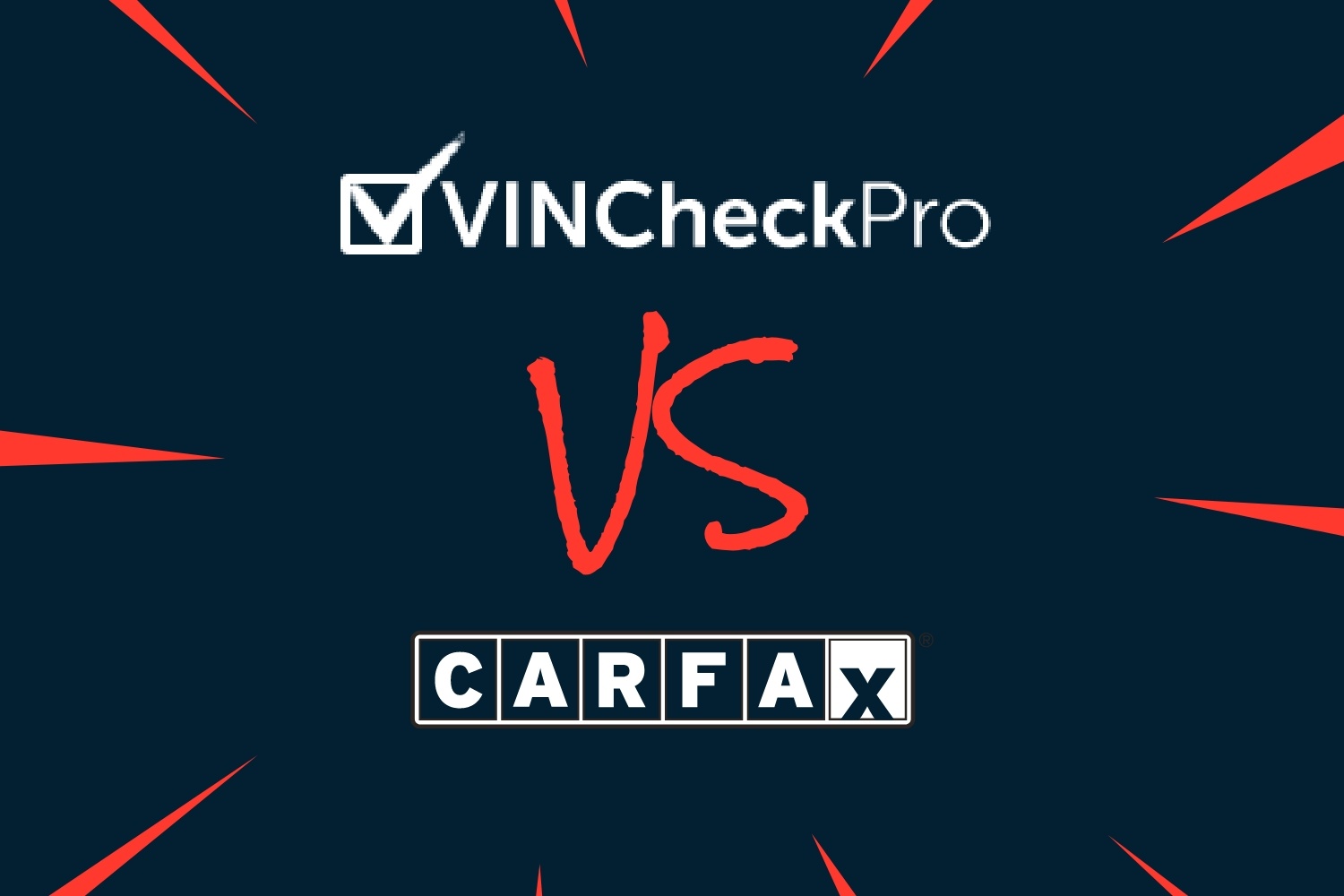 Today's document will cover VINCheckPro vs Carfax review for people who need it the most to make decisions. New individual buyers and car dealers don't know which VIN decoder services are best and should give it a try. Vehicle history reports are of utmost importance. You shouldn't make a buying decision after all; it's a matter of your hard-earned money. So, to provide help, there are many best VIN decoders in the market. But before heading further, keep in mind that there are two different terms: CAR HISTORY & the other one is VIN decoder. So, people can make the best decision by knowing the difference between both:
Difference between car history & VIN decoder
VIN decoder is an algorithm that can translate the Vehicle identification number. The main aim is to translate complex information into simple words. Usually, VIN is a code that consists of 17 digits and numbers. Thus, many VIN decoders services help decode the data. The VIN is imprinted on the vehicle and provide the following type of information:
| | | |
| --- | --- | --- |
| Country of the vehicle's origin | Manufacturer Details | Unique # of the vehicle |
| Model, style, and restraint system of the vehicle | Model year and engine type | Plant location where your car assembled |
Apart from this, the VIN depicts the transmission details and style of the body. In short, VIN decoders perform great when it comes to record checking before locking the final deal.
Car history
On the other hand, car history is different from VIN decoders. Car history services provide specific details of any vehicle and the usage history. The services have a dedicated database to store all information that they collect from trustable sources. For instance, we include police, private organizations, insurance corporations, and registers in trustable sources. In simple words, car history providers give more detail than the VIN decoders. Here are a few of those things:
| | | |
| --- | --- | --- |
| Accident history | Theft record | Mileage |
| Title records | Number of owners | Service record |
| Insurance history | Damage history | Salvage record |
For beginners, we can say VIN decoder services provide essential information. But car history checkers offer detailed information about technicalities, specifications, and manufacturer details. So, if you want to buy a vehicle, an extensive car history report will surely help you grab a good deal. Moreover, there isn't any other avenue than the best VIN decoder services to access the actual data. Several services are providing these services. But here, we are going to cover VINCheckPro vs Carfax.
Do data providers give different info?
It's a crucial question that crosses the mind of so many people. People have tested a difference between data they got from unique VIN decoder services. So, yes, it happens most of the time, especially when one service is local. Most of the time, the accuracy of the data depends on how their management makes deals with sources. We all know that VIN decoders get data from government and other private sources. So, if a company has good references, they will provide the correct information.
But if we talk about a local service, they have only limited data sources in a few countries. In this way, naturally, they can't grab much information compared to the others. Now there is a future of CONNECTED REPORTS. It means that related reports get the data straight from the vehicle related to the system. Thus, the local VIN services are far from this trend.
VINCheckPro vs Carfax: Best VIN decoder services
If you are wondering about the VIN, it's imprinted on the car by the manufacturer. Apart from this, you can also find it on the vehicle's registration documents. But before reviewing any service, keep in mind that sometimes history reports could be empty. Yes, it happens due to the following reasons:
If the car is good, there isn't any red flag about this situation.
But if the car is new but the report is empty, then it means the provider doesn't have access to any specific region or country.
Still, you should contact customer support if there is any doubt as that is the right place to ask about the report. Here are two VIN decoder services that are on the comparison list.
VINCheckPro vs Carfax: Comparison chart
If we compare VINCheckPro vs Carfax, there isn't much difference between covered areas. The amount of information is the same still here are following points that distinguish both:
| | |
| --- | --- |
| VINCheckPro | Carfax |
| Provides info about titles, readings, engine types, repair inspection, insurance details, accidents, etc | The database is the same as VINCheckPro. |
| VINCheckPro offers one report for $7 and five reports for $12.95 | Carfax provides one report in $40 |
| VINCheckPro has loopholes in the system that make it hard to use | Carfax is free from errors and bugs |
| Negative customer reviews are the biggest problem for goodwill | Customer reviews are good, and people are satisfied with the service |
| People can easily manipulate the information | Car reports aren't 100% true because Carfax has a weak system in Europe. |
VINCheckPro: A complete review

VINCheckPro is a service that claims to provide that their customers need to make the best buying decisions. The primary aim is to give value to their customers. If we visit the main website of VINCheckPro, then the management wants that each person should make the buying decision confidently. Due to this, the VINCheckPro shows the most important facts about the vehicle. Here you can check the details for all cars, whether a truck, motorcycle, bus, or car. You only need to provide a 17-digit code, and the accurate information will be in front of you. Here is the detail that you get on the report:
| | | |
| --- | --- | --- |
| Safety ratings of the vehicle | If there is any recall or defect in the vehicle | Vehicle problems and the system shows up to 60 |
| Accident details | Salvage details | Total loss records |
| Structural damage, if any, happened | Police record | Vehicle specification |
So, it's undoubtedly a treat to get an extensive report with all these details. In this way, you can make the best decision that goes in your interest.
Highlighted features of VINCheckPro
Though the service is new, many points make it different from others. So, let's look at these:
The company takes the data from a national vehicle information system famous as NMVTIS. So, due to this, the sources of VINCheckPro are strong. The NMVTIS is the federal information system operated by the US Department of justice. So, this profile makes this a strong contender in VINCheckPro vs Carfax review.
But keep in mind that vehicles that are registered in MI, KS, DC, MS, OR, or VT have limited records in the system. So, due to this glitch, you can't get much information.
VINCheckPro lets you check the odometer reading and environmental score. It is an excellent feature that other VIN decoder services don't provide.
It's a good and affordable option for people who want to check more than one vehicle. Apart from this, VINCheckPro offers one free report to the customers.
But if you are getting a free report, it's stated in the privacy policy that the system will share your information with partners. It means you should be ready for the car industry's promotional emails, spam messages, and sales calls.
But here, in this VINCheckPro vs Carfax review, it's vital to mention this service using the same database that Carfax uses. So, there isn't much difference in the information that you are getting.
Reviews of previous customers
Reviews and complaints of past customers are the most concerning part of this VIN decoder. Many customers complain that VINCheckPro doesn't provide service the way they advertise. For instance, there are a few cases where essential details like salvage, accident history, total loss records, and junk details were missing. Apart from this, here we are mirroring a few reviews to get a closer picture of the problem:
"Total scam, I paid for the report, and instead I got nothing, plus they are refusing for refund."
"The VINCheckPro generated a report with ZERO information. Worthless."
"This cheap service is of no use; I recommend this to no one."
The VINCheckPro offers VIN decoder services at less price; that's why customers fee more attracted. But the team surely needs to work on the quality and system glitches. In addition to this, they need to resolve a severe issue of refunds.
Pricing details of VINCheckPro
We can't complete the VINCheckPro vs Carfax review without discussing the pricing details. In general opinion, VINCheckPro is one of the cheapest options available in the market. So, here we are breaking down the pricing details:
Very first report = FREE
First report after the free one = $6.95
Five reports cost around = $12.95
Besides this, the website mentions the availability of a subscription model. So, you can go for any plan that suits you most and goes best with your needs. VINCheckPro is a good option for car dealers along with individual buyers. Apart from this, there are other strong and weak points that you should know:
| | |
| --- | --- |
| Pros | Cons |
| Data quality is high and uses the same sources that Carfax uses | Reviews aren't good |
| Simple reports of vehicle history | In the case of free reports, the system shares customer information with partners. |
| Easy to use interface | |
| Low price and come with one free report. | |
| Data is secure with SSL encryption. | |
However, this specific VIN decoder service has checked the record of around 3 million vehicles. Mainly, if your vehicle is manufactured after 1980, you can take this service's help to prevent the record. VINCheckPro has a history of more than 90% of cars.
Carfax: A complete review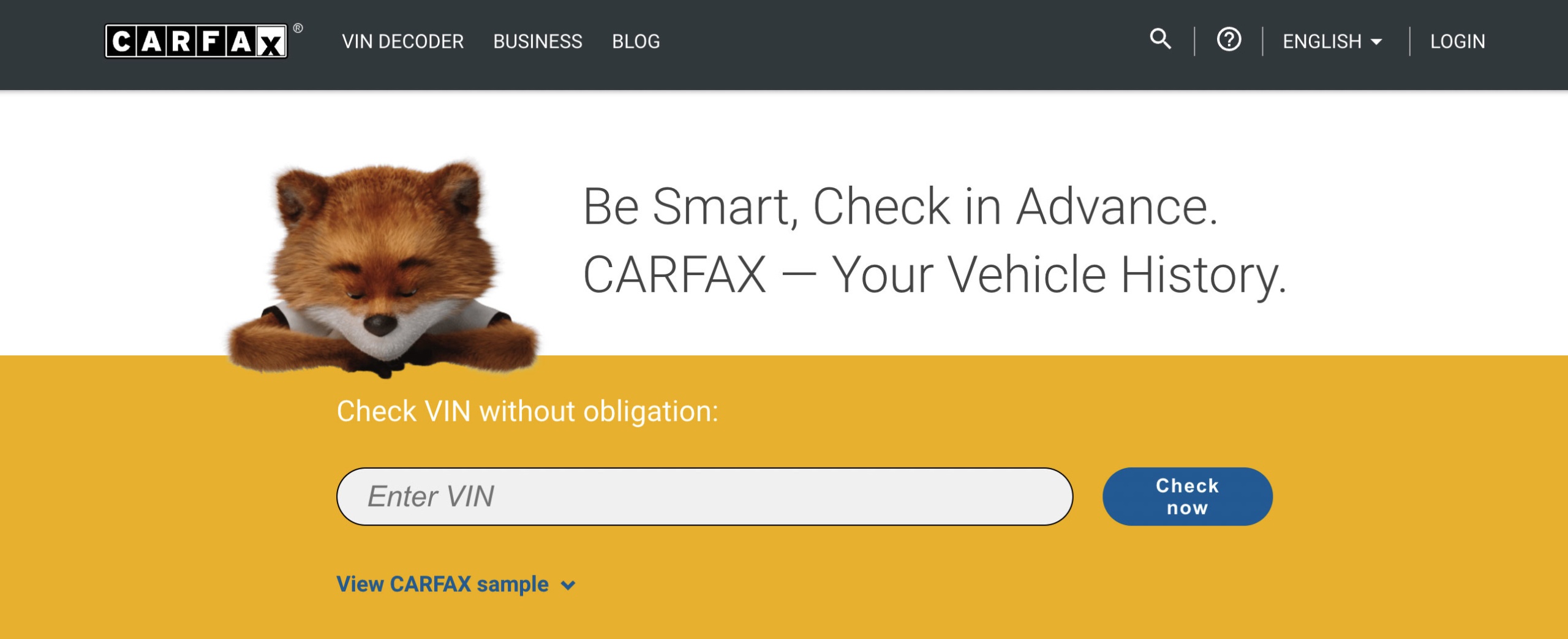 Carfax is one of the GURUS of VIN decoder services in the USA and Canada. There is hardly any person who doesn't know about the Carfax in the United States. Here you get VIN decoder services and reports in the most organized and structured way. Apart from this, the service includes among the best VIN decoders due to its user-friendly interface. But if we talk about the reports, then Carfax and VINCheckPro provide the same level of information that covers equal categories. But in VINCheckPro vs Carfax review, the real difference is between the customer services. The Carfax gives details in an organized manner, and you don't need to worry about critical information. Moreover, there is hardly any field about the used cars missing.
Highlighted features of Carfax
Carfax has one of the most extensive databases actively working in Canada and the USA. The service relies on more than 20,000 streams to check records if we look at the sources. In addition to this, other qualities make it unique from the VINCheckPro:
Carfax allows customers to check used cars' data if the manufacturing date is 1981.
Apart from this, the Carfax is best for retrieving data of any vehicle imported to Europe from the USA.
The vast database covers the USA, Canada, and more than 20 countries of Europe.
It has more than 20 trustable sources to check data, and due to this, many car dealers and individual buyers go for this service.
So, Carfax is an excellent service that provides value against the money you spend for the best VIN decoder reports. Above all, the transparency of this VIN service is unmatchable. You don't need to follow long processes to generate a car report. The detailed information is just a few clicks away, and you can even preview it for free.
Reviews of real-time customers
If you are still confused about whether you should choose Carfax or not, then the reviews of real-time customers may help you. So, here are some verdicts:
"I enjoy the fact that Carfax helped me to get information about the car that I was trying to buy. The best car app."
"I bought a car in 2019, and Carfax showed me everything as described on the website. I trust this service."
"It's a great way to look at the used cars, and this VIN decoder service describes how they work."
So, if you are interested in giving Carfax a try, then a single report costs around $40. It includes comprehensive reports with data accuracy and provides value. But do remember that there are also some downsides of Carfax that you should know before investing money.
Conclusion
There isn't any doubt in VINCheckPro vs Carfax reviews that "Carfax" is a clear winner. It's more professional and provides reliable information. But if you are dealing with budget constraints, then VINCheckPro is more logical and the best VIN decoder. The VINCheckPro offers the first report for free. So, if you are a car dealer, VINCheckPro is a good option because you can buy bulk packages here.