Is carVertical legit?
carVertical is the world's first global and decentralized car VIN check based on blockchain.
Check your car's VIN via the carVertical platform and get the entire vehicle history, including its original mileage, if it had any damages, if it's stolen, and other most relevant information. 
carVertical VIN lookup offers a valuable and easy platform to find out the essential details of a car's "biography" (like accidents or odometer readings).
Moreover, this VIN check provides car archive photos, spotted activity, maintenance, equipment, and model faults.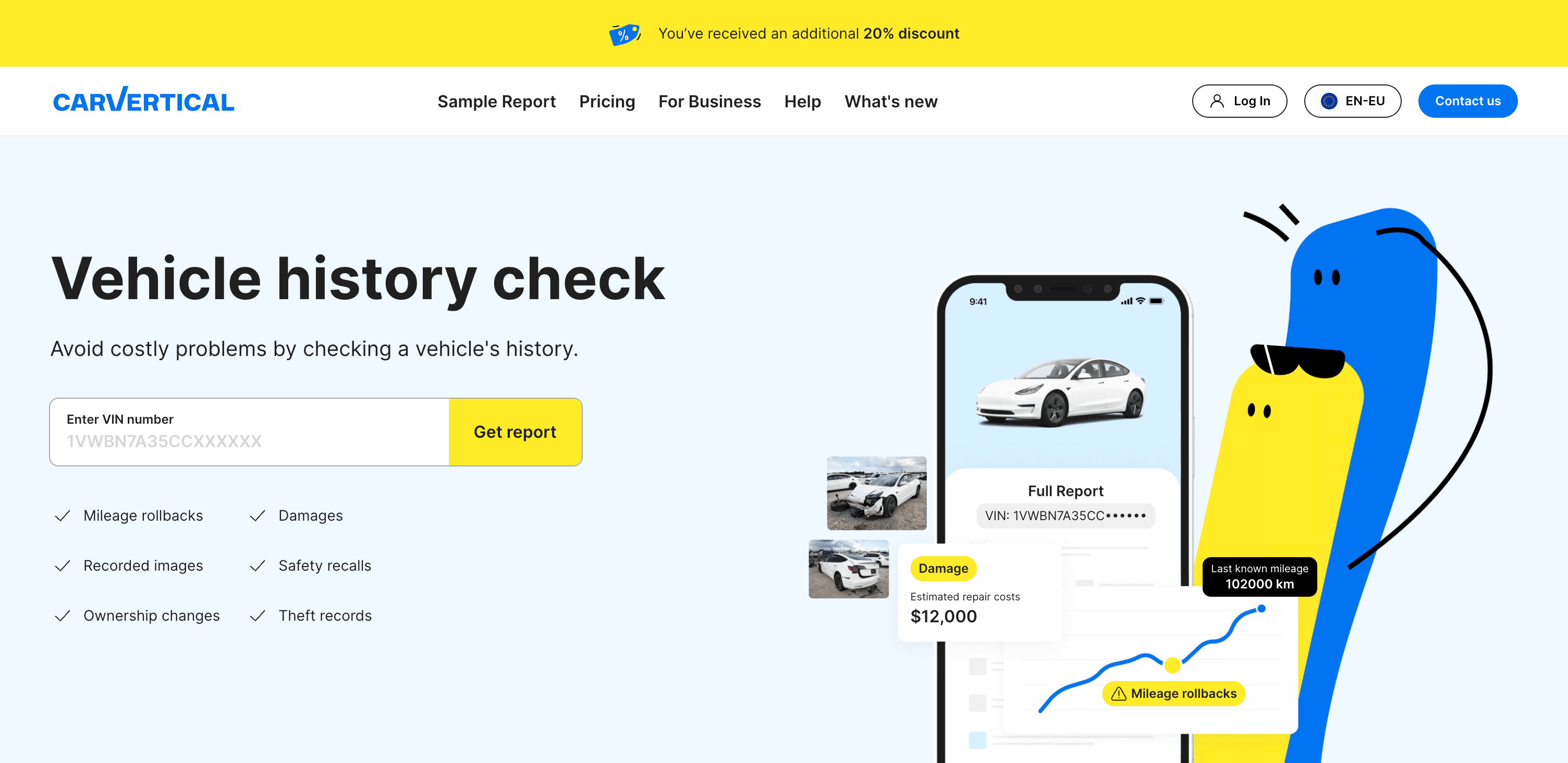 Why should I choose carVertical?
It is the first VIN checking solution that uses blockchain.

Authentic odometer readings at different periods.

A list of accidents or damages made to particular vehicles.

Photos from the past.

Information regarding car activity from various state documents.

Verification if the vehicle is stolen.

Manufacturer defects or recalls.

The manufacturer provides a maintenance timetable. It lets to compare the servicing plan to the service book's actual records.

Equipment options that were pre-installed in the factory.
What is the data's source?
Driven by the idea of data decentralization and giving power to consumers, carVertical's goal is to enable every car buyer around the globe to get authentic, reliable information about specific vehicles to help them make informed decisions.
It gathers information from different sources, including national and private registries, various databases, and even onboard diagnostic (OBD) devices.
It processes and verifies all the data and uses blockchain to confirm its reliability. This means that a car's "past" cannot be changed, faked, or manipulated.
Consumers can be 100% sure about the car's condition.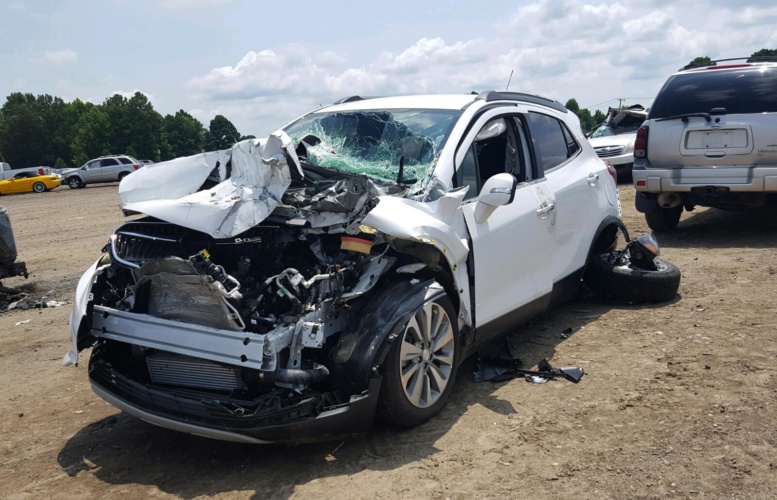 carVertical Price Info:
carVertical has several deals per year. To check if one of those deals is available now, go to the carVertical website.
Regular price:

14.99 €

for one report

Buying two reports:

11.24 €

for one report

Buying three reports:

9.99 €

for one report
Transparency is the most important thing. Here are the details about how the money is spent:
3.1 € – Data acquisition

3.2 € – Salaries & contractors

0.6 € – Hosting and maintenance

0.41 € – Tools & day to day expenses

1.25 € – Transaction fees and VAT

1.44 € – Profit
carVertical Established Markets
United States
European Union
United Kingdom
Lithuania
Estonia
Latvia
Poland
Romania
Hungary
France
Ukraine
Sweden
Belgium
Czech Republic
Croatia
Bulgaria
Slovakia
Serbia
Finland
Slovenia
Germany
Belarus
Russian Federation
Italy
Switzerland
Denmark
Australia
South Africa
carVertical Review – Is carVertical trustworthy?
Compare the data from the seller and the carVertical registry. Even if the seller has provided you with detailed car information, it is always worth checking vehicle history on independent platforms like carVertical. Perhaps it will help you decide whether or not to buy a particular car, or you might gain new arguments in the negotiation.
By purchasing a detailed report, you will find out the genuine mileage of the car, so you'll be able to check if it hasn't been clocked. Also, you'll learn whether the vehicle has been in the accident.
 
Frequently Asked Questions
What is VIN?
VIN is an abbreviation for Vehicle Identification Number – a unique set of 17 characters that car manufacturers assign individually to every vehicle. You can find VIN on various vehicle parts or in the registration documents.
What information will be present in the carVertical connected report™?
Provide you with the necessary information to determine the vehicle's actual condition: mileage, damage records, countries of previous registrations, records from databases of stolen cars, and so much more. The exact list of information is subject to availability.
What makes carVertical connected report different from other similar services?
carVertical is the pioneer of connected reports. They integrate multiple advanced information sets with data coming straight from connected cars. It means more accuracy and more up-to-date information for you. Moreover, carVertical is a blockchain company, which makes it impossible to manipulate the data.
What is the data's source?
The report employs various sources, including state registries, insurance companies, auto repair shops, connected vehicle fleets, and many more.
How long will it take me to receive my carVertical connected report™?
Usually, in just a few minutes, the service is available 24/7, and reports are generated automatically.
How do I pay?
Credit cards, PayPal, or even cV tokens from your crypto wallet – all are accepted.