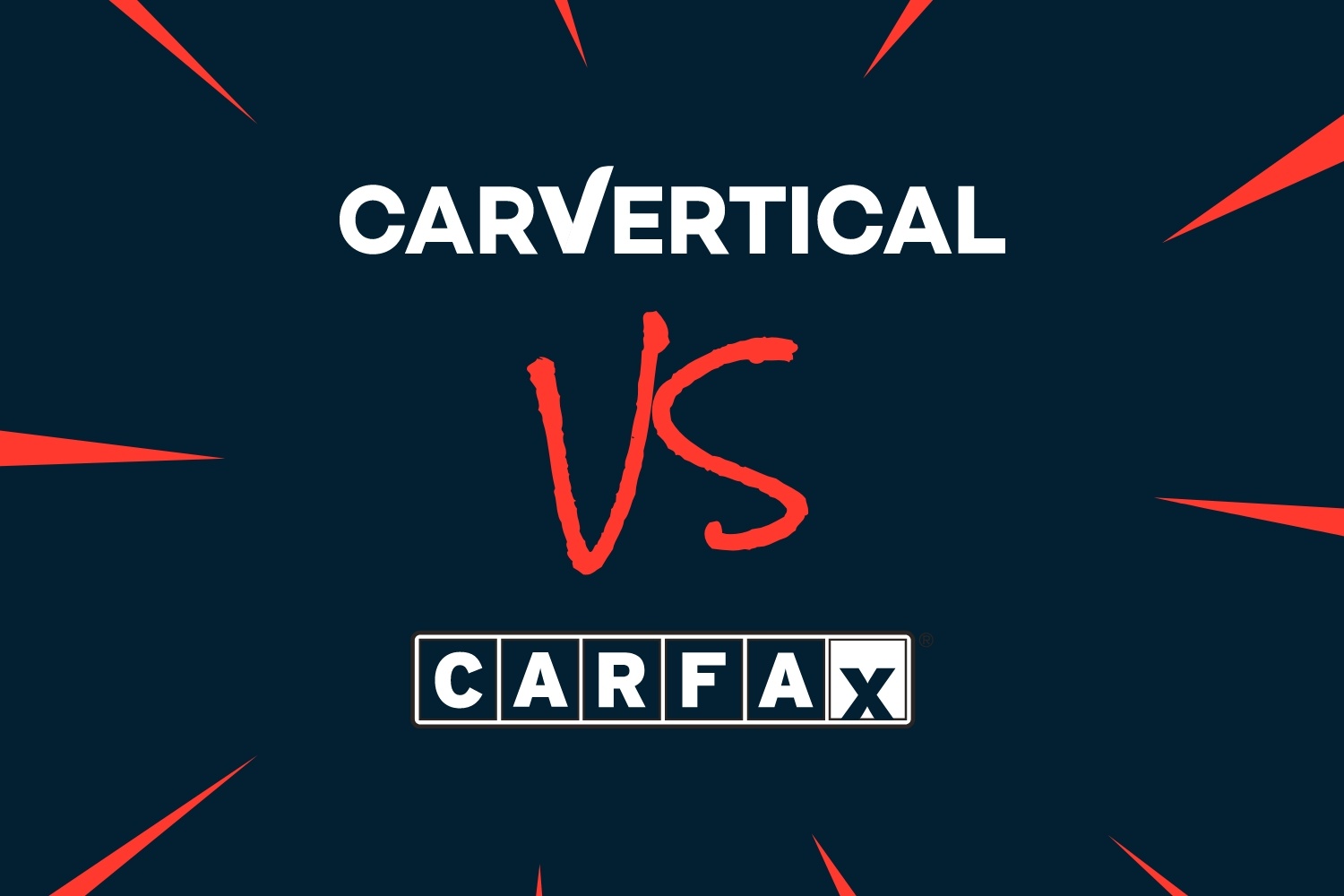 If you are buying a car, then be worried about safety. Thus, you should read this comparison about CarVertical vs Carfax if you prioritize safety. Buying a new car is undoubtedly a tough decision, especially when we hear so much about crimes. So, while looking for the best deal, you shouldn't ignore the best VIN decoders to grab the best deal. No one wants to lock their hard-earned money in a dead deal. Most of the time, the vehicles aren't safe, and you remain concerned about the safety. But now we have the best solution in the form of VIN decoders. Before heading further, learn the basics of this concept:
What is a VIN decoder? A brief definition
We use VIN decoders to check the Car's history, and there are many companies available that provide this service. The term "VIN" represents "VEHICLE IDENTIFICATION NUMBER," You can get the whole history online by using this. But every random person can't decode that code; that's why you need a particular service to do all this. The main aim is to provide maximum information by checking the Database against that number. Moreover, you don't need to worry about the reliability and authenticity of the data. The VIN decoder companies get the information from credible sources like:
Insurance companies
Automotive associations
Government
Police department
Leasing companies Database
Paid private Database
Technical inspectors
And the record of stolen vehicles
But the VIN decoder companies only help when buying a used car. Moreover, in most cases, the seller provides the vehicles' data at the time of selling. It is an inexpensive and fast process recommended for everyone in both situations. In this way, you get to know about the real problems and warn outs of the Car.
Why should you know the history of the vehicle?
People can manipulate VIN decoders if they aren't using an authentic website. So, it's crucial to go for a service that has credibility. Here are the following things that a credible service tells us:
| | | |
| --- | --- | --- |
| Vehicle's maintenance/service history | Real milage | Accidents |
| Insurance record | Number of owners | Damage history |
| Junk and salvage history | Title records | Specifications and equipment details from the manufacturer |
Every Car has a different past, owner, and accident history, so a new owner has the right to know all detail. However, due to this, Car VIN decoder services are vital. If you go to a car dealer, they will provide different information that's why these services are the best decision. But if you don't go for this, there isn't a reliable way to get accurate information. Most importantly, the VIN helps get the record, even from different countries or regions. In Europe, it's common to change the vehicles' history and number over the years. Thus, you surely need a reliable service to protect your money in this situation.
CarVertical vs Carfax: Best VIN decoders
If you are a car dealer, enthusiast, or insurance agent, you can't tell everything in the first look. So, in this situation, you surely need a helping hand in the form of VIN decoders. In this way, you can grab a good deal, but meanwhile, you can't deny the importance of a suitable VIN decoder. There are different opinions about CarVertical vs Carfax. However, in this review, we will inform you about both sides of the story. So, first, let's look at both VIN decoders:
CarVertical: A complete review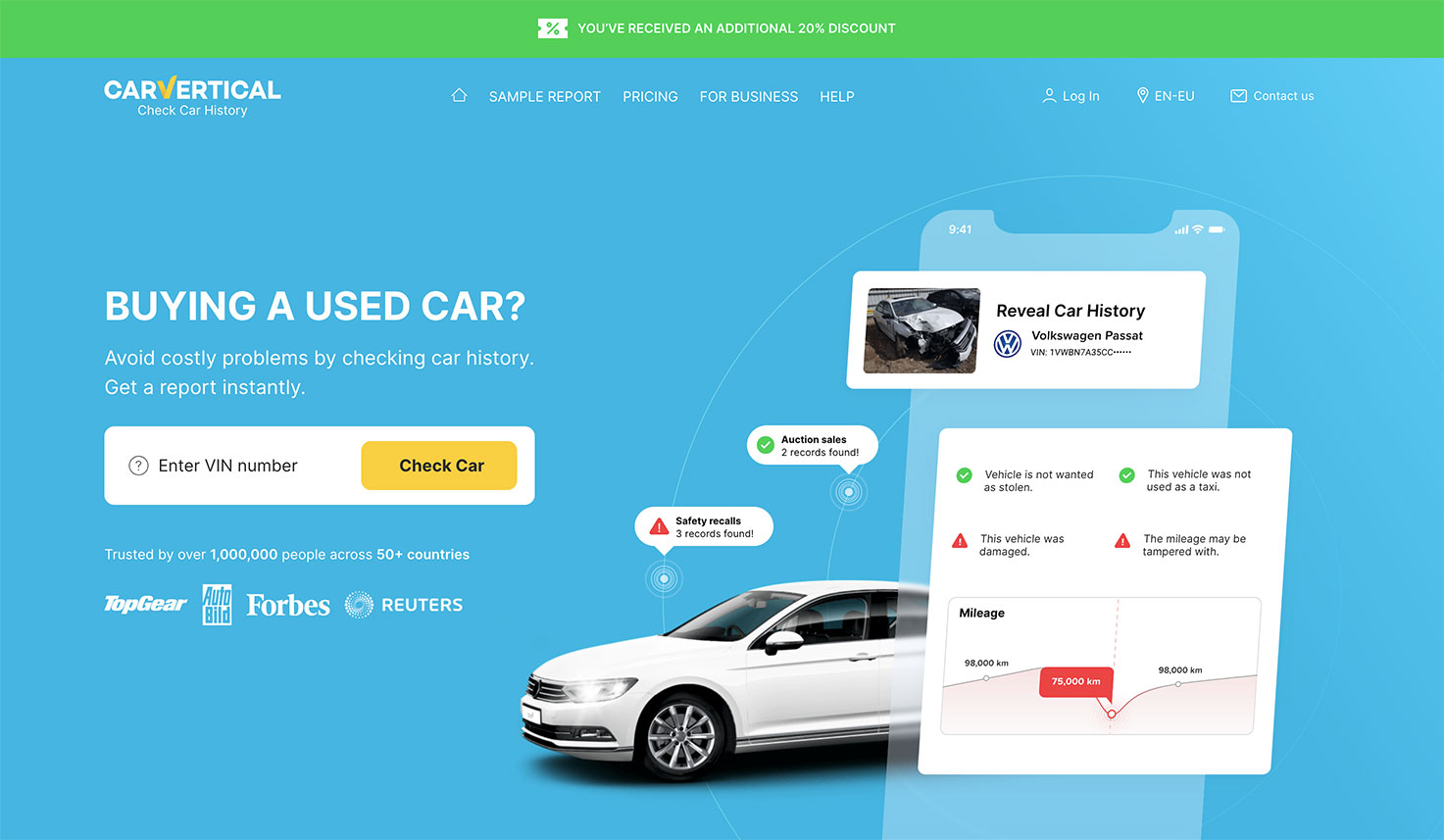 CarVertical is more than a simple VIN decoder; that's why the service is winning hearts and surpassing the rating chart. The makers understand that you need to check dozens of things before buying the Car. Thus, using the CarVertical can avoid a thousand other problems with just a few clicks. In simple words, it helps prevent issues that could be expensive in the future. Moreover, if we look at the rating, CarVertical overall stands at 4.9/5 stars which is excellent. Here are the following things that you can check by just adding a VIN.
| | | |
| --- | --- | --- |
| Car's history | Mileage rolls back | Multiple owner details |
| Common faults that a specific model has | Damage report of the vehicles | Theft record |
| Historical photos of the Car | Other random yet useful information | |
If you ignore the credibility of the VIN decoder, then it could cost you thousands of dollars. So, before making the buying decision ensure that you check the vehicle's history with the help of a VIN decoder.
Highlighted features of CarVertical:
In this CarVertical review, it's unfair if we don't talk about the highlighted features of this decoder.
It helps you to save thousands of bucks.
More than 1,000,000 people in 50 plus countries use this app to check details.
It gives you an instant and fast report without any delay
Have featured in industry media like FORBES, REUTERS, AUTO BILD, & TOP GEAR
Apart from this, the most remarkable thing is that the data is checked and verified. So, customers don't need to worry because there isn't any way to fake it as it's verified from the blockchain.
You can even earn money by joining the affiliate marketing program of the CarVertical.
The main aim of CarVertical is to keep people safe on the road. You will be safe from driving an unsafe vehicle if you know everything. So, ensure that your future Car isn't faulty; otherwise, it could be dangerous for your loved ones.
Pros & cons of CarVertical:
There are always two sides to the story and if you are new in this industry, then take a look at both sides. Generally, there is an opinion that CarVertical is more transparent in its reports and content. Now blockchain technology has changed everything, and the CarVertical wants to pioneer this trend in the world of VIN decoders. So, the venture did the same, and they started to build a database from their European union headquarter. The results are excellent, and the Database is performing way better than other VIN decoders available in the market. Here we are providing an overview of the positive and negative sides:
| | |
| --- | --- |
| Positive sides | Weak points |
| A very comprehensive database where you can get detailed information | The life of the company is comparatively less than other services |
| The upgrade in blockchain technology is undoubtedly a cherry on top | Due to a smaller number of employees, sometimes customers feel in-convenience |
| The service verifies the information from credible sources like Interpol database, insurance, leasing, and police record | |
| You can frequently find good pricing deals during the promotional period. | |
| Excellent customer support | |
| A dedicated team that verifies each report before publishing | |
So, if you want a single report from the CarVertical, you will have to pay almost $20. The excellent service and positive reviews make it the number one data provider in the industry.
Steps to generate a report:
One of the most excellent features distinguishing CarVertical is that the system doesn't let anyone manipulate reports. All reports are made on the blockchain; that's why it's hard to forget. So, if you are interested, then follow these simple steps to create a report:
Enter VIN -> Data Search -> Pay -> Get Report
You can easily find VIN from the vehicle's documents. But it's better to spend $20 instead of wasting thousands of dollars by locking a bad car deal.
Carfax: A complete review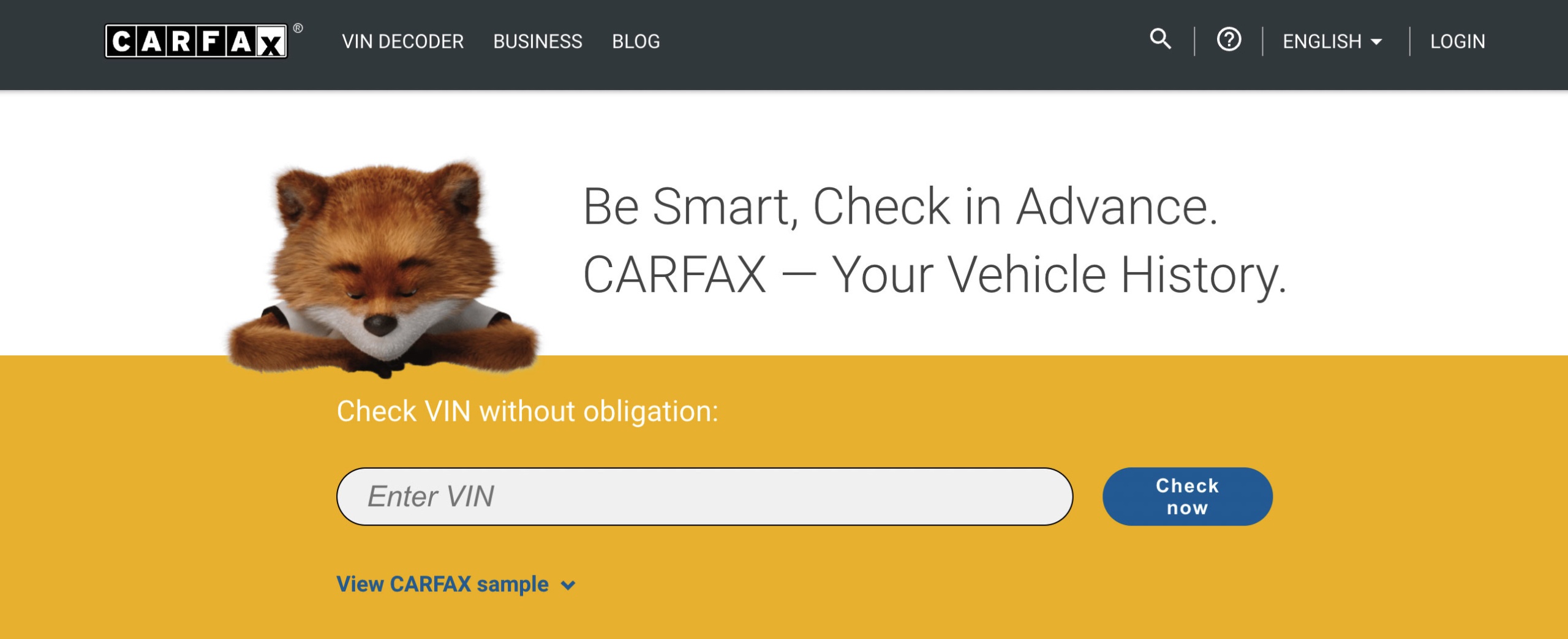 If you are in Car's business, you probably have heard about Carfax. It is one of the most recognized VIN decoders. Moreover, if we talk about the USA and Canada, there isn't any single person who hasn't heard about this decoder. So, it means that brand awareness is over the top, but there are many things that you need to know. Using Carfax, you can't only check the model but also engine detail, assembly plant, built number, manufacturing date, and much more. You only need to enter a 17-digit number in the system and set it to go.
CarVertical vs Carfax: Highlighted features:
We discussed that it is one of the most trustable VIN decoders currently working in the USA and Canada. There is a reason behind this trust that this company was established around 1984. So, it's an excellent place to get reliable information, accidents, service roads, inspections, and repair details. Apart from this, here are other points that make it promising:
It enables you to get information from more than 20 European Union countries and North America.
You can access the service online immediately.
The service has more than 35 years of experience in this industry.
Carfax generates reports after checking the record of 28 billion historical data.
But here, it's vital to mention that Carfax only focuses on the car history. So, if you are using this service, you won't get ownership details.
Carfax promises customers to provide transparent, independent, and neutral reports.
After checking insurance firms, repair centers, retailers, inspection firms, and other independent companies, the service provides us with data.
But before using this service, you should keep in mind that reports aren't 100% accurate. There are some ways that vehicles can use to avoid registration in Carfax sources. The market for used cars is far more significant than the new ones. So, it's safe to say that Carfax provides the best tactics and methods to provide detail.
Pros & Cons of Carfax:
Carfax could be great for America and Canada, but what if we use it in other countries? So, if you want to know the complete review, then here are the pros & cons because everyone deserves to buy a safe vehicle.
| | |
| --- | --- |
| Pros | Cons |
| Highly reputable in Canada and North America | A weak global system that hardly covers the European union |
| Service is working with excellent Database | Has a limited range of information |
| There is a team of 500-700 employees that is here to handle deeper issues | It doesn't use blockchain technology |
| A well-known brand that has working experience of over 35 years | It only shows the vehicle's history and doesn't talk about the ownership detail |
| Transparent and easy to access service | |
Carfax is famous due to its more experience and good reputation in the industry. Moreover, the VIN decoder talks about the odometer reading, branded title, and past registrations. So, if you want to know more then, you will have to face disappointment. Thus, if you're going to create a report using this VIN decoder, the service charges are around $40 for a single piece. It means that the price can go up in case of multiple reports. But Carfax also offers an excellent offer that says that "EVERY CAR COMES WITH A FREE REPORT." But one free piece isn't enough for the lifetime, and eventually, you will have to add more money.
Steps to generate a report:
If you are interested in generating reports on Carfax, then here are specific steps that you will have to follow.
Enter VIN -> Preview to Pay Fee -> Buy access to check history
Moreover, making a one-time payment includes the vehicle's data update for 30 days. If anything happens with the Car within 30 days, Carfax will inform you about that. But there is a drawback that people can change the reports because the service provided doesn't use blockchain technology like the CarVertical.
CarVertical vs Carfax: Comparison report
Carfax and CarVertical are two famous VIN decoders. But when we talk about CarVertical vs Carfax, there are few differences in service. We made a chart that highlights the difference between both:
| | |
| --- | --- |
| CarVertical | Carfax |
| It Covers tiny details, including ownership and history | Lack of stolen vehicles check as it only focuses on the history |
| Uses blockchain | A random system generates reports |
| Has less experience | Market presence is around 35 years |
| More transparent and reliable | Transparency is compromised as reports aren't 100% accurate |
| Price is around $20 for a single report | The price range is $40 for a single report |
| Great for Canada, America, and Europe | Popular in North America and Canada but doesn't have a string system in Europe. |
| Fast service | Works slow and easy to manipulate |
In the end, it's safe to say in this CarVertical vs Carfax review that CarVertical has the best Database. However, this service will overtake Carfax with blockchain technology, detailed reports, lower prices, and friendly customer service. So, if you are an individual, car dealer, or industry dealer, these VIN decoders could help you grab a good deal. But both services come with positive and negative sides, and there is no harm in reading CarVertical vs Carfax review to know the real thing.
Note: As per the writer's recommendation, you can surely try the new kid in the shape of CarVertical. It will surely be a treat to give blockchain technology a chance.